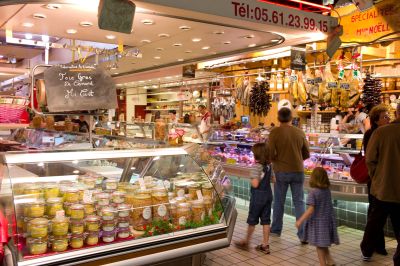 Wilson Square and Victor Hugo Market
Place Wilson and Place Victor Hugo are a must see in Toulouse. Located three minutes on foot from the hotel they each have many attractions.
Place Wilson offers a central park with a beautiful fountain and shaded seating under lovely trees, a cinema, cafés, bars, restaurants and fashion boutiques.
Victor Hugo, just next to place Wilson is the Toulouse covered food market. Open most mornings, it is an ideal location to get a flavour of the region and see up close all the fresh ingredients that go into the stunning local cuisine. Even better, if you wish to sample some of the Toulouse's culinary delights then just head upstairs to the floor above the food stands and you will find the market restaurants. A great place to have lunch!