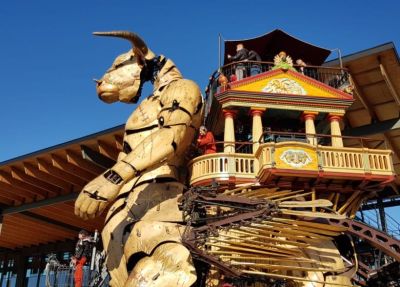 The Hall of the Machine in Toulouse (La Halle de la Machine)
Come and marvel at theses giant metalic animals and there improbable articulations all on exhibit in the Machine Hall in Montaudran.
Visit the Halle de la Machine from the Raymond 4 hotel
The 3-star Raymond IV hotel offers direct access to the Halle des Machine. From Matabiau train station, take a TER , within 5 minutes you will arrive at Montaudran station. The Halle de la Machine is a 10-minute walk away. By car, it is less than 15 minutes from your hotel in central Toulouse.
What can you see at the Halle de la Machine?
A permanent and lively exhibition, commented and "performed" by the team of machinists.
A very large Minotaur and a giant spider, on the back of which you can travel.
A giant merry-go-round in the centre of this improbable setting. 18 meters wide and 14 meters high, the merry-go-round accommodates forty-eight people, adults and children.
But also a bar-restaurant, a shop and meeting spaces ...