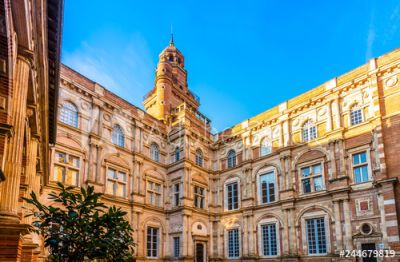 Top historical places to visite in Toulouse
The pink city is full of historical treasures. We have already told you about La Place du Capitole, Place Wilson and the Pastel Museum. But there are also historic monuments to visit urgently. Among them :
The Basilica of Saint-Sernin
It is one of the largest preserved Romanesque basilicas in Europe. A majestic monument, made of brick and stone, listed as a UNESCO World Heritage Site and built in the 11th century in honor of Saint Saturnin (martyr dragged into the city by a bull in the 3rd century).
To see: the octagonal bell tower, the organs of Cavaillé-Coll, the sculpted or pictorial details, the gilded canopy, the treasure of relics in the crypt…
The Jacobins convent
A jewel of the medieval era, this beautiful Gothic architectural ensemble from the 12th and 14th centuries (including a very beautiful church and its cloister) was considered at one time to be the most beautiful Dominican church in Christian Europe.
To see: a stone palm tree 28 meters high, a cloister where serenity and freshness reign, a Gothic octagonal bell tower ...
The Assézat hotel
It was in 1555 that Pierre d'Assézat, a Toulouse merchant who succeeded in pastel, had the Hôtel d'Assézat built to match his success. It is the most beautiful mansion in the city.
To see: the Bemberg Foundation and its paintings, sculptures, furniture and works of art dating from the Renaissance to the 20th century, the decorated facades of the courtyard, the tower which dominates the city and the elegant loggia.
All of these historical Toulouse monuments are easily accessible from your Raymond IV hotel in central Toulouse.